Author: Dale Fowler - Company Director INDECT USA
January 2, 2018
---
The John S. McCain National Defense Authorization Act for Fiscal Year 2019 (NDAA) was signed into law on August 13, 2018. Apart from authorizing $716 billion for the National Defense Budget, it also contains wide-ranging cybersecurity provisions that may have an unexpected effect on many federally funded organizations, airports in particular.
Section 889 of the NDAA prohibits the use of federal funds to acquire:
telecommunications equipment or services produced by the Huawei Technologies Company or ZTE Corporation
video surveillance technology or equipment produced by the Hytera Communications Corporation, Hangzhou Hikvision Digital Technology Company or Dahua Technology Company
any equipment or services that the Secretary of Defense reasonably believes to be owned, controlled or connected to the government of a foreign country.
From August 2020, government funded agencies will also be barred from entering into, extending or renewing a contract with any company that uses the above-mentioned telecommunications or video surveillance equipment.
The NDAA ban also covers essential components and/or critical technology as part of any system manufactured or produced by the named entities. It is believed that this extends to the 'system on a chip' (SoC), which includes embedded processor circuitry capable of executing software commands frequently used in video surveillance systems.
It is important to note that this ban affects other manufacturers or vendors if the video surveillance equipment or systems are offered under another brand name typical of OEM, ODM and JDM relationships. This is commonly known in the industry as re-badging.
What does the 2019 NDAA mean for airports and the parking industry?
At first glance it may seem that the NDAA ban only applies to federal agencies, however, there are a number of public entities that rely on federal funds in the form of grants. Airports are one of these entities.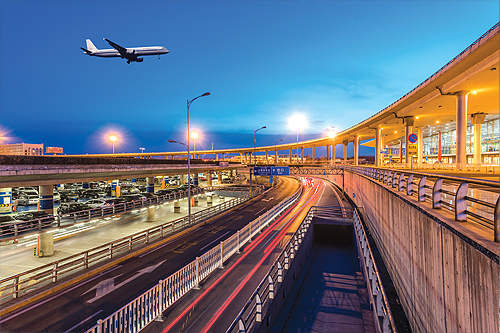 While most airports are state or city owned, many receive federal funding for capital improvements through the Federal Aviation Administration (FAA), which operates under the Federal Airport Act. In July 2018, the FAA awarded $659.9 million in infrastructure grants to 390 airports nationwide as part of the $3.18 billion Airport Improvement Plan. This funding may be used for a variety of projects ranging from runways and aircraft rescue to terminal renovation and parking infrastructure.
A common requirement of many modern airport infrastructure projects is the inclusion of a parking guidance system. Parking guidance systems dramatically improve airport congestion by quickly and easily directing traffic to available spaces. Many parking guidance companies offer a camera system, which utilizes video surveillance equipment and technology to enable license plate recognition (LPR) software and security features. However, it's not just parking guidance systems that may be affected, other security components such as CCTV may also be adversely impacted by the 2019 NDAA.