INDECT has been designed and developed to not only make your customer experience better, but your job easier and your parking system more profitable.
99.9% SPACE COUNTING ACCURACY
With INDECT, gone are the days when the level counting signage leads the customer down the wrong path. With INDECT's software and web-based technology, the spaces available on the sign will match the actual spaces available… 99.9% of the time.
IP 65+ RATED
INDECT's ultrasonic and camera-based sensors are IP-65+ rated. That means not only are they completely protected from dust, but water too. No other product on the market can claim that.
INCREASES OCCUPANCY
When you install INDECT sensors in your garage, there are no more hidden spaces. Now your customers can easily navigate your garage even if there is only one space left. The little green light above the parking space makes it easy to be found.
LOWERS OPERATING EXPENSES
Since INDECT is software driven, you will save time, energy and resources maintaining your parking system. All of which can be done at your computer or from a smart device.
OPTIMIZES GARAGE USAGE 24/7
By using INDECT's powerful web-based parking administration software, you are able to turn contract spaces into general parking spaces after hours and on weekends. You can also customize your parking space lighting for special events.
IMPROVES GARAGE SAFETY
INDECT UPSOLUT camera-based sensors not only monitor cars, they can monitor people as well. This adds a layer of security never seen before in a parking guidance system.
IMPROVE SHORT TERM PARKING SPACE COMPLIANCE
Do your customers ignore the one hour parking space time limits? Not only are they difficult to monitor, they cut into your profits. INDECT's UPSOLUT is capable of license plate recognition so you can easily identify those customers to ensure they pay for the time parked in these highly sought after parking spaces.
POWERFUL DATA & ANALYTICS
INDECT's reporting can be set up to address all of your parking system objectives, and provide powerful information to help you maximize the use and profitability of your garage system.
SIGNAGE IS CUSTOMIZABLE AND SYSTEM CAN BE INTEGRATED
INDECT's signage, sensors and software can be easily integrated into parking revenue control systems, building management systems and city-wide guidance systems. This helps reduce new hardware investment and streamline your parking administration costs.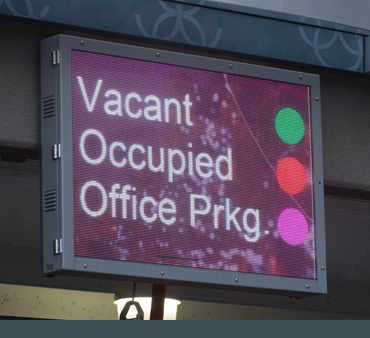 Since INDECT parking guidance and signage systems are software driven, they are easily customized, making your parking areas easy to maintain or change.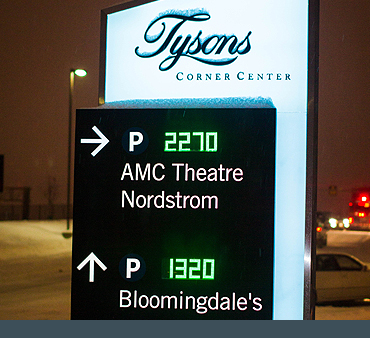 INDECT's IP-65+ rated custom signage, for both indoor and outdoor use, are dustproof and waterproof and will withstand extreme environmental conditions.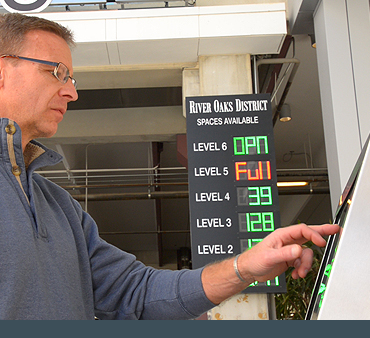 Forgot where you parked your car? Simply use the INDECT "Car Locater" kiosk, type in your license plate number, and locate your car. It will give you directions from where you are standing.
We understand that every parking garage is unique.
We understand that every parking garage is unique.
We understand that every parking garage is unique.